(Read the article and then take action!)
When people buy "green" beauty products, they expect they're not going to contain harmful toxins and known carcinogens! A consumer watchdog group recently tested more than 80 green beauty cosmetics for the presence of organic fluorine, an indicator of toxic PFAS "forever chemicals." They're called "forever chemicals" because they don't break down in our bodies or the environment. PFAS are a class of thousands of mostly unregulated chemicals linked to cancers, cardiovascular disease, immune problems, reproductive issues and more, even at ultra-low levels in the single digit parts per trillion.
Per- and polyfluoroalkyl chemicals (PFAS) are used in countless products like furniture, food packaging, dental hygiene products, non-stick cookware, firefighting foam, and 52% of conventional makeup tested in a 2021 study from Notre Dame University. Physics professor Dr. Graham Peaslee, one of the authors of the conventional makeup study, said that women who wear lipstick may consume several pounds of lipstick in their lifetime.
After reading the results of the study, we did some of our own testing, which led us to file a consumer protection lawsuit against CoverGirl/Coty. The company markets their products as safe and sustainable, but PFAS is neither!
Forever chemicals are causing a public health nightmare. We do NOT need PFAS chemicals. There are safer alternatives!
PFAS is used to make things heat-resistant, water-resistant, stain-resistant and/or grease-resistant. It's the stuff in Scotchguard that creates a seal, the cheap pizza box that holds the grease in, and the water-resistance of many rain jackets. PFAS is typically added to makeup to make the product waterproof or long-lasting. Most of the time, the manufacturer doesn't list it as an ingredient and doesn't disclose that it is present! Because of their toxicity to human health and the environment, we must do our best to avoid PFAS, get them off the market, and educate our family and friends about their presence.
In November of 2021, Mamavation published results after they tested 83 green beauty products from 49 different companies, mostly lip products and mascaras and many of which had "long lasting" or similar claims implied in their marketing. Thanks to our friends at Mamavation, we know 65% of green beauty products tested contained levels of organic fluorine, indicating the presence of PFAS! Companies are either using it on purpose OR, more likely, their products are being contaminated in their manufacturing processes.
Some states regulate PFAS in drinking water, with ultra-low safety tolerance levels in the parts per trillion. The Mamavation test results found higher levels of organic fluorine in the parts per million range starting at 10 ppm. Organic fluorine represents a large portion of PFAS but it's only a portion, so the actual PFAS levels are probably even higher. The results are shocking. Sometimes there were mixed results among products from the same company, with some testing clean and others with high levels!
see if your "eco-friendly" green makeup was tested FOR PFAS AND HOW IT STOOD UP!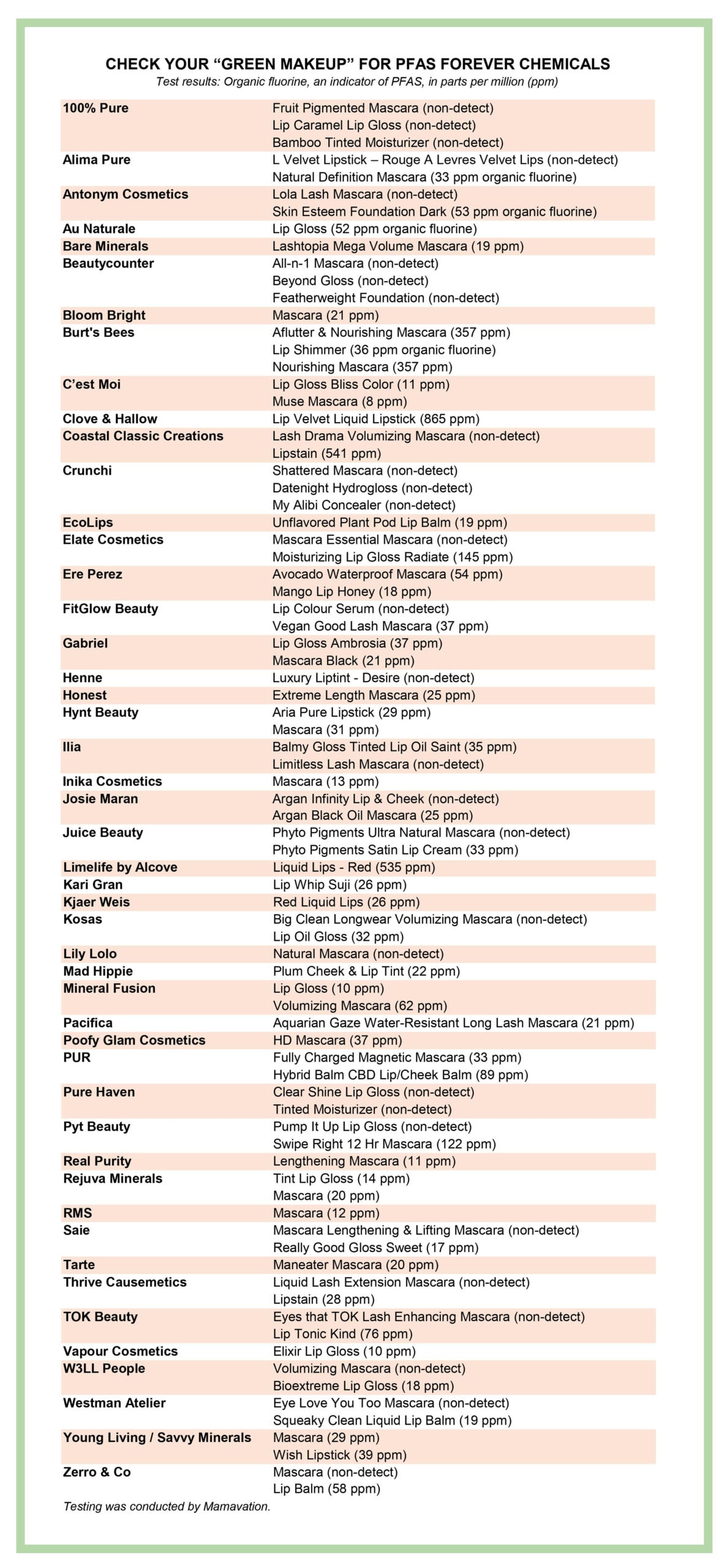 Are these companies adding PFAS on purpose? Or is it the manufacturing equipment, cleaning and lubrication chemicals for that equipment, contaminated water, or the molds used? Probably for most green beauty products, they're less likely to be adding PFAS on purpose and more likely it's the entire manufacturing process for cosmetics that needs to be cleaned up.
Want to do something about it?
Take action now and tell your U.S. Representative to co-sponsor and pass the Safer Beauty Bill Package, a suite of four federal bills that would ban 11 toxic chemicals, including the entire class of PFAS forever chemicals, from beauty and personal care products. The bills would provide long-overdue protections for consumers and professional hair, nail and beauty salon workers.
Found PFAS in your favorite makeup?
Call or email the brand/s ASAP. Please take a minute to pick up the phone or write an email and personally contact them as a customer. Here's a sample script you can use:

I'm calling/writing to let you know that I have been a loyal customer and have enjoyed using your products. I just learned that some of them contain very toxic PFAS chemicals that cause cancer and other health problems. Until you fix the problem, I will no longer be buying them.
Some of these companies are small businesses doing their best to clean up the cosmetic marketplace. So, when you reach out, appreciate them for their efforts to be green, but they need to know you don't want PFAS in your makeup.
Drop a comment below to let us know what happened when you called or if you heard back from your members of Congress about the Safer Beauty Bill Package!
Read the full report on lab results from Mamavation
Read about the Conventional Makeup Study
Makeup image at top: Romina Farias on Unsplash