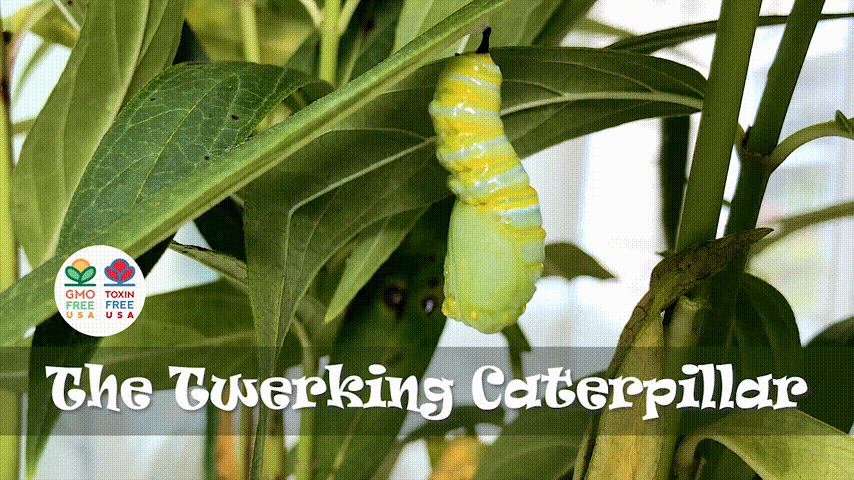 The Twerking Caterpillar is a video series and part of GMO/Toxin Free USA's Save the Monarch Butterflies campaign, which seeks to heighten public appreciation and generate action to support the monarch butterflies.
The monarch butterflies are endangered, according to the International Union for the Conservation of Nature (IUCN), an international organization working in the field of nature conservation and sustainable use of natural resources. Created in 1948, IUCN is the world's largest and most diverse environmental network, harnessing the knowledge, resources and reach of more than 1,400 member organizations and 15,000 scientists and experts.
Watch the YouTube video to witness the life cycle and metamorphosis of the monarch and why milkweed plants are critically important. The video has timelapse sequences of a caterpillar turning into a chrysalis and finally, the emergence of an adult butterfly.
Share it with your kids so they can gain an early appreciation for the beauty of nature!
You can also watch the mesmerizing real-time video of the caterpillar transforming into a chrysalis. And it's twerking! What is twerking?
"Twerking is a type of dance that came out of the bounce music scene of New Orleans in the late 1980s and involves throwing or thrusting the hips back or shaking the buttocks, often in a low squatting stance."
We need to follow appreciation with advocacy and action if we're going to preserve the monarchs so their beauty and pollination services can be enjoyed for generations to come.
It's going to take systemic change to reduce the threats to this iconic butterfly.
More that you can do as an individual…
Become a registered, certified Monarch Waystation. Learn more HERE.