"GMO plants don't come with warning labels. When in doubt, choose Certified Organic. Then you know its GMO Free." – Melinda Olson, Earth Mama Angel Baby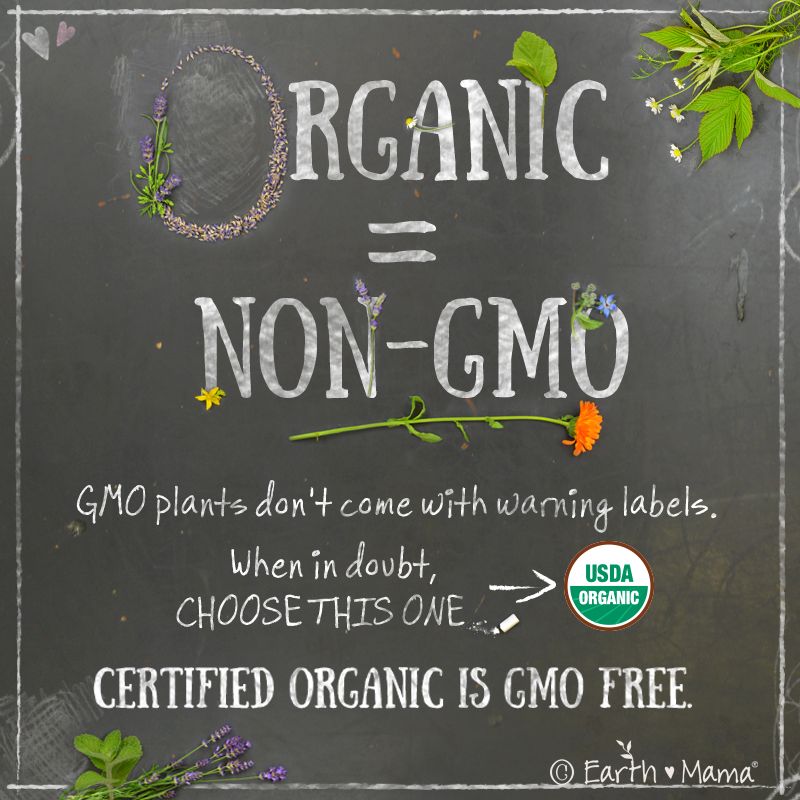 What goes ON your pregnant body or ON your baby goes IN your baby. Since Earth Mama Angel Baby is committed to honest, clear, and transparent labeling, as well as consumer education about product labeling, we believe mamas have a right to know exactly what is going on. It's as simple as that.

For over a decade Earth Mama Angel Baby has been supporting mamas and babies of all ages with safe, non-toxic herbal pregnancy, postpartum, breastfeeding and baby care products and teas. Carefully formulated organic products are certified by a third party so you know there are no pesticides, herbicides, GMOs or other toxic chemicals. Earth Mama's Natural Nipple Butter was the first lanolin free nipple cream and is the only verified non GMO nipple cream too. And all of Earth Mama's certified organic teas are Non GMO verified.
Nurse, herbalist, and real mother Melinda Olson began formulating organic herbal remedies for friends in her Oregon kitchen many years ago. Her love of organic gardening, passion for herbs, and desire to find safe products for mamas and babies led to founding Earth Mama Angel Baby, an industry leader in safe, natural and organic herbal products. Earth Mama believes in the natural process of birth, and the healing power of nature.
Melinda is an expert in the benefits of plant medicine, and continually balances her trust and care of traditional herb wisdom with evidence-based research. If it doesn't measure up to her standards, it doesn't leave the building. That's Mama's Promise®.
Visit Earth Mama Angel Baby: http://earthmamaangelbaby.com
Earth Mama Angel Baby on Social Media:
Facebook: https://www.facebook.com/EarthMamaAngelBaby
Twitter: https://twitter.com/EarthMamaHQ
Instagram: https://instagram.com/earthmamaangelbaby
Pinterest: https://www.pinterest.com/earthmamahq