For Immediate Release
Press inquiries contact:
Luan Van Le, Toxin Free USA, 347-921-1466, info@gmofreeusa.org
Jay Feldman, Beyond Pesticides, 202-255-4296, JFeldman@beyondpesticides.org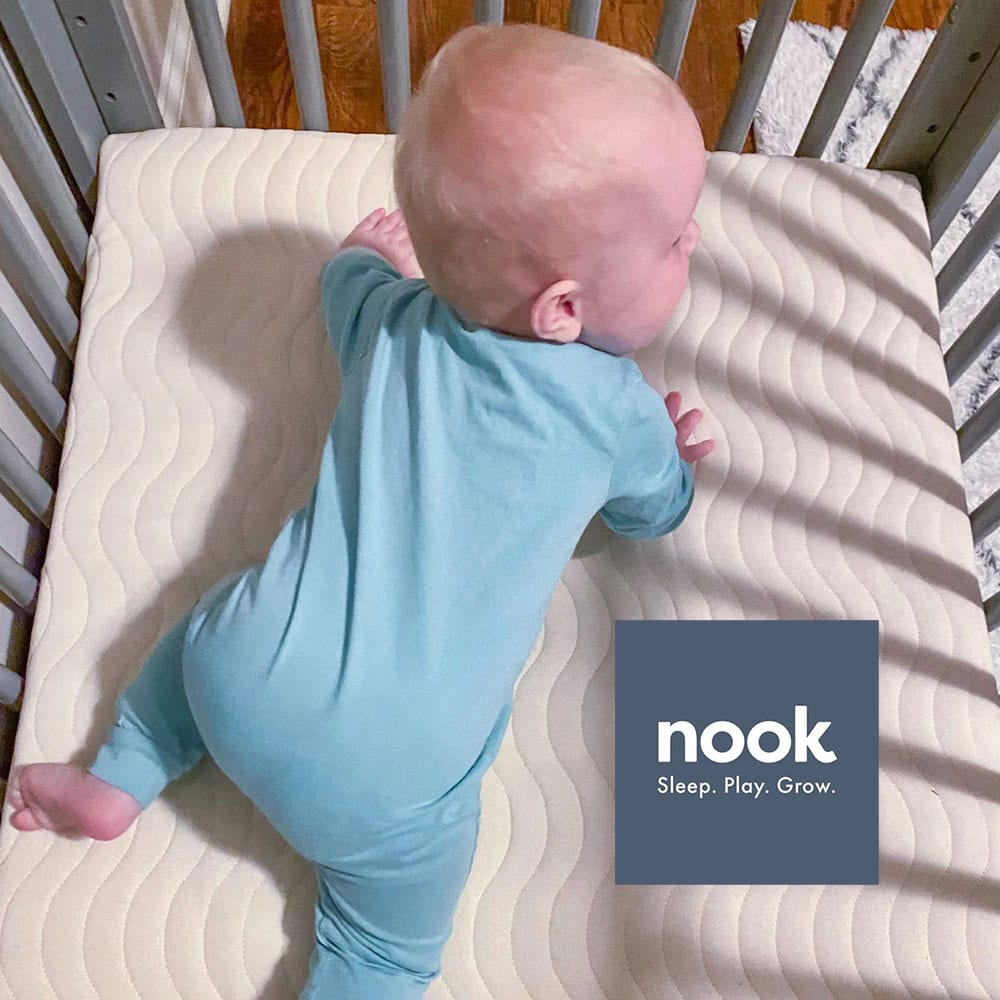 Washington, DC, April 14, 2023 — Toxin Free USA and Beyond Pesticides, nonprofits dedicated to consumer protection and education, filed a lawsuit against Nook Sleep Systems, LLC, a manufacturer of baby and children's bed mattresses, alleging deceptive marketing of some of its crib mattresses.
Nook represents its products as "pure," "organic," "natural," and "safe."
Toxin Free USA sent a Nook "Pure Organic" bed mattress to a certified lab for testing and found high levels of fluorine, an indicator that a product contains PFAS. Further testing found 130 parts per billion (ppb) 6:2 FTOH 130, and 88 ppb of the PFAS chemical perfluorohexanoic acid (PFHxA) in the outer layer of the mattress cover.
PFAS are a class of toxic chemicals that peer-reviewed studies have linked to cancer, autoimmune disease, thyroid disease, liver damage, high blood pressure, obesity, hormone disruption, decreased immunity, decreased fertility, and birth defects and harmful developmental effects in infants. Studies also show PFAS, which are also known as "forever chemicals", do not break down naturally in the environment, bioaccumulate in human bodies, and can be harmful at ultra low levels, in the parts per trillion.
"Exposing babies to PFAS chemicals that are known endocrine disruptors linked to cancer and a myriad of other serious health concerns can have life-long negative impacts on their health and wellbeing. Nook's claims that their mattresses are 'pure,' 'organic,' 'natural,' and 'safe' are egregious examples of misleading marketing. The company must warn consumers and remove PFAS from all products immediately," said Diana Reeves, Executive Director of Toxin Free USA.
"Organic has become a trusted word in the marketplace and indicates that ingredients are held to the highest standard in protecting health and the environment," said Jay Feldman, executive director of Beyond Pesticides, a plaintiff in the case. "It is critically important that we protect the integrity of organic as a label and in advertising, as we work to shift the marketplace away from hazardous materials that threaten the well-being of people," Mr. Feldman said.
The Nook suit, filed under the D.C. Consumer Protection Procedures Act, seeks to end Nook's deceptive marketing. Toxin Free USA and Beyond Pesticides are represented by Richman Law & Policy.
Read the full Nook Sleep Systems complaint HERE.
###
GMO/Toxin Free USA is a 501(c)(3) nonprofit advocating for a clean, healthy food system and environment, non-toxic consumer products, and educating consumers about the hazards of GMOs, synthetic pesticides and other toxins. www.toxinfreeusa.org
Beyond Pesticides is a 501(c)3 nonprofit organization headquartered in Washington, D.C., which works with allies in protecting public health and the environment to lead the transition to a world free of toxic pesticides. www.beyondpesticides.org